Half Ass Acres Pony-Tailed Lass needs our help. Her miraculous birth was seen by many of us on Mare Stare the night of September 24th, 2007. The prayers of so many helped this precious little girl that night and more help is needed with her expensive surgery that was performed on Tuesday, November 6th, 2007. All donators will receive a refrigerator magnet of Pony-Tail Lass!!

Taste the Rainbow's first foal is here!

9/24/07 @ 9:30pm!
Pony-Tailed Lass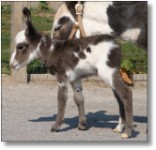 Bow's baby was breech and Bow was in labor for nearly two hours before the vet arrived and delivered the baby alive! A true miracle...she is a gorgeous, tiny, dark spot but she needs your prayers. She was born without a tail or anus. We are taking her to UT Vet Hospital in the morning. This baby wants to live. The vet was amazed that she was still alive and we were too. Bow is doing fine and loves her baby who she thinks is just perfect. We feel blessed that this little angel came to share her life with us...no matter how long or short it turns out to be. Some people say that animals don't have feelings...but I believe if they had witnessed Bow thanking the vet after he delivered her baby safely they might change their opinion. Thank you Dr. Greg Harris...from Half Ass Acres, Taste The Rainbow, and all of our friends at Marestare. What a wonderful job you did!!

Here is a video of the delivery .



Update 9/25/07 @ 10pm: We are home from UT Vet School and the prognosis is good. Pony-Tailed Lass's problem is going to be repaired with an operation on Thursday. She has a slight heart murmor that they will check out thoroughly today to be sure she is strong enough for her operation on Thursday. Stay tuned for updates! Photos and videos are posted on our newborn page. (Update: the heart murmur turned out to be physiological and she should outgrow it as she matures).

Update 9/26/07 @ 2:pm: The vets at UT just called and said the cardiologist vet said her heart did not sound like the usual foal heart but they tested her and nothing came up wrong..they said it is probably a physiological heart murmur that will disappear with age. She is scheduled for her surgery tomorrow. Everything is looking very good. Thank you for your continued prayers!



Update 9/26/07 @ 6pm: Dr. Jim Blackbyrd called me and apologized for calling so late but he said it took him all day long to get in touch with Dr. D. J. Carwinkle who is a retired vet surgeon who is an expert on this kind of surgery. They collaborated and decided that since Pony Tailed Lass is able to void that the best thing to do is to wait three weeks before they operate since newborn skin is like butter. They want the surgery to have the best chance to be successful. So they want us to pick her up Friday and bring her home and they will send her home with antibiotics in case any of her fecal matter drops down into her bladder. Then we are to make an appointment to take them back in November for her surgery. Dr. Krahwinkle has offered to come in and assist in the surgery. So look for Bow and Pony-Tailed Lass to be back in their stall late Friday!!

Update - 9/28/07: Bow and Lass are home. They will be returning to UT Vet Hospital in three weeks for the surgery. The vets wanted her newborn skin to be more mature before they operate.

Update - 11/02/07: The vet hospital in Knoxville just called us and scheduled Pony-Tail's surgery for November 6th. The vet that is doing the surgery is Dr. Blackford. The retired vet that is an expert in this kind of surgery that is coming in to assist in the surgery is Dr. Krahwinkle. Everyone say a prayer for Pony-Tail. I am sure she is going to come out of the surgery with flying colors!

Update - 11/09/07 @ 10:34am: PTL is out of surgery!! She is up and nursing. She will stay at UTK until Tuesday for observation and is expected to be able to come home on Tuesday! The vet that did the surgery is Dr. Blackford. The retired vet that is an expert in this kind of surgery that advised Dr Blackford about the surgery was Dr. Krahwinkle.

Update 11/13/07 @ 8am: Pony-Tailed Lass has gone back in for surgery this morning. They are going to remove a piece of tissue between where her colon stopped and the new hole the surgeon made on her first operation. This may cause scar tissue to completely block her passage but as it is now the tissue is making the opening too small for her to poop normally. If scar tissue forms they will do a third operation and put her back basically the way she was. Please keep Pony-Tail in your prayers!

Update 11/13/07 @ 2:21pm: Dr. Pierce just called and said she and Dr. Blackford have completed PTL's second surgery. They removed the extra thickened tissue that was between where her colon stopped and her new opening they made during the first surgery. She is waking up now and back with mom. They had to sedate Bow (mom) to keep her calm while her baby was away. They are going to continue to give PTL oil and water thru her feeding tube to help soften her stool. They cleaned out her colon and gave her an enemie before she woke up. We don't have an estimated time when she will be able to come home. It will all depend upon how well she is moving feces through her new opening. Thank you to everyone that prayed for PTL!! I will post further updates as I hear them.

Update 11/19/07: PTL is home and doing great!

Update 12/12/07: PTL went back to the vet school in Knoxville for a checkup. They cut a tiny piece of skin off of her anus that was hanging and advised us to give her flaxseed oil once a day for ten more days. Her next checkup is scheduled for January 2nd, 2008.



Click here to see updated photos & videos of Pony-Tailed Lass posted on July 1st, 2008!.

To be a part of this effort to help Half Ass Acres Pony Tailed Lass, please send your donations, check or money order to:



Joe or Dayle Haworth
Half Ass Acres
2359 Feed Mill Road
Chapel Hill, Tennessee 37034

Donations may, also, be made directly to
their Pay Pal Account: minidonks@united.net


All donators will recieve a nice refrigerator magnet of Pony-Tail!!

Click here for a high defination print of this fundraiser for posting!

Click here for the code to post this message to your site. Don't forget to do a 'right click' on the graphic below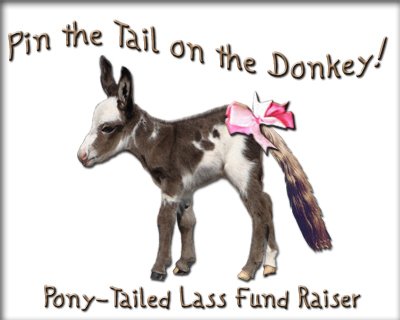 and save it to your images file on your server.

Your donations, thoughts and prayers are very much appreciated and will certainly be used to see that Pony Tailed Lass receives the best treatment available. If any monies are raised above the amount of her care, they will be donated back to Mare Stare Cares. Thanks so much! Everyone that has donated should have received a refrigerator magnet of PTL. Please let me know if you have not received your gift...thanks!