Miniature Donkeys Sold in 1997

<! TableStart Key=HAADonkeyBanner> <! TableEnd Key=HAADonkeyBanner>



MINIATURE DONKEYS WE HAVE SOLD IN 1997
1 Jennet ~ 1 Jack ~ 0 Geldings = 2 Total


~ Jennets ~
"Elm's Acres Iris"
Sorry No Photos Available


Iris was the first jennet foal we purchased and we sold her
to one of our best friends that wanted to start raising donkeys.
All of her photos and information were lost when I changed computers.



~ Jacks ~
"Half Ass Acres James Brown"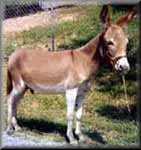 James has been sold - Congratulations to Dr. Richard Fontaine in Indiana at DINKY DONK FARM. James is the best all-around miniature donkey we've ever owned. For information about James' offspring call 765-762-1443.

Click here to visit their web site at
Dinky Donk Farms in Indiana




Joe & Dayle Haworth
2359 Feed Mill Road
Chapel Hill, Tennessee 37034
Barn Phone: 931-364-3715
Cell Phone: 615-504-4536

Web Page: http://www.miniaturedonkeys.net
Email: minidonks@united.net


E-Mail Us About Miniature Donkeys



You are on our 'Donkeys Sold in 1997' page now.


Last Updated: May 23rd, 2016
Web Design by Dayle Haworth
Copyright © 1998-2020 ~ Half Ass Acres ~ All Rights Reserved