Miniature Donkeys Sold in 1998

<! tableStart Key=HAADonkeyBanner> <! tableEnd Key=HAADonkeyBanner>



MINIATURE DONKEYS WE HAVE SOLD IN 1998
4 Jennets ~ 3 Jacks ~ 1 Gelding = 8 Total


~ Jennets ~

"PMF Trixie"
Sorry No Photos Available


Trixie was the first adult jennet we ever purchased.
Unfortunately her photos and information were lost when
we had a computer crash and nothing was backed up.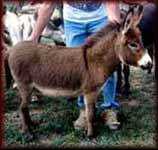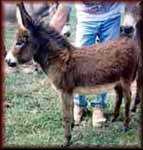 "HHAA Celine Dion"
Chocolate Jennet born June 13th, '98
Just 20 1/2" tall at birth. Dam is 31" Gray-dun, Pygmy Acres Farrah
Celine is a full sister to Half Ass Acres Electra,
a top brood jennet at Flight of Fancy Miniatures
owned by Jane Savage.



UpDate... Celine has been sold..
Congratulations to Nancy brubaker
Windswept Farm in Roanoke, Virginia
on the purchase of this beautiful jennet.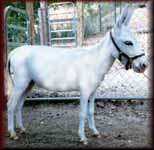 "Half Ass Acres Noelle"
32 3/4" Fully-Frosted White Jennet foaled 12-23-94
That's Noelle's baby photo at the start of our Web page..

Congratulations to Mary Hubbard
PHOEBE FARM in Massachusetts
on the purchase of this fine Jennet
She will be greatly missed.
To inquire on Noelle's future offspring
contact Mary at 978-948-2039
click on the link below to send an email

Email Phoebe Farm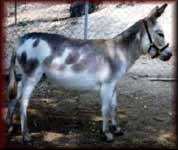 "Half Ass Acres
Goldie Hawn"
31" Chocolate/White Spotted Jennet 31"
Foaled 10-05-95 Dam is 31" Gray-dun, Pygmy Acres Farrah



~ Jacks ~
"Sweetwater Farm's Bravo"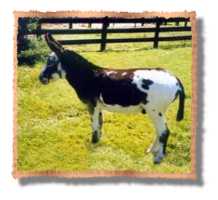 (Click photo to enlarge)

Dark Spotted Jack



Congratulations to
Bill & Bernice Davis
Derbytown Farm
"HHAA Lucky"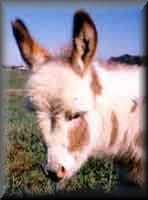 (Click photos to enlarge)

34" Dark Brown & White Spotted Jack
D.O.B. 9-13-97



Sire: Fisher's Great Gildersleeve, 32¼" Brn/Wht/Gray Spot
Dam: Half Ass Acres Whoopie, 33¾" Smoky Black



Lucky was bred & raised at Half Ass Acres. When his previous owner was tragically killed in an automobile accident we drove all the way to Colorado and re-purchased him and six other donkeys they owned We later resold Lucky as a gelding in 2000.

"HHAA Tom Cruise"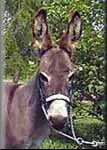 Born on the 4th of July '97
Light brown/gray jack out of a 29 1/2" Brown Jennet
Tom's full '95 brother was a sorrel
30¼" gorgeous Jack - James Brown
Photos taken 4/14/98 - Tom is a light brown/gray color
with sorrel highlights and very, very small.
He will be tiny just like his Mom and Full Brother.


UPDATE. TOM HAS BEEN SOLD.
CONGRATULATIONS TO JANET &
MIKE ROSE OF TENNESSEE
~ Geldings ~
HHAA THE RAINMAN
Raymond was born in a rainstorm 10-13-97
He is a light brown/gray/white (tri-colored)
His dam is a 33 1/2" tri-color spotted jennet,
Half Ass Acres Jody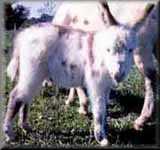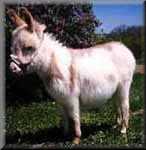 "HHAA The Rainman"
6 weeks old & 6 months old


Congratulations to Mary Theriault in New Jersey at
BRUMAR FARMS on the purchase of this outstanding donkey.
This donkey was re-purchased and gelded and later sold back to Mary for her grandchildren.




Joe & Dayle Haworth
2359 Feed Mill Road
Chapel Hill, Tennessee 37034
Barn Phone: 931-364-3715
Cell Phone: 615-504-4536

Web Page: http://www.miniaturedonkeys.net
Email: minidonks@united.net


E-Mail Us About Miniature Donkeys



You are on our 'Donkeys Sold in 1998' page now.


Last Updated: May 23rd, 2016
Web Design by Dayle Haworth
Copyright © 1998-2020 ~ Half Ass Acres ~ All Rights Reserved