Miniature Donkeys Sold in 1999

<! tableStart Key=HAADonkeyBanner> <! tableEnd Key=HAADonkeyBanner>



MINIATURE DONKEYS WE HAVE SOLD IN 1999
1 Jennet ~ 2 Jacks ~ 2 Geldings = 5 Total

~ Jennets ~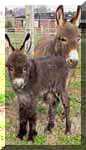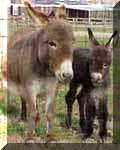 "HHAA Dixie Chick"
Foaled 2/26/99 @ 11:00am
Dark Chocolate Jennet
Sire: Fisher's Great Gildersleeve, aka. Indiana Jones
Tri-colored 32 1/4" jack
Dam: LN Pixie of Bell E. Acres, aka. Sheena
brown 29 1/2" jennet


Click here to see Dixie Chick's birth..




Update. Congratulations to
The Grays of Rock Creek Ranch in Texas
on the purchase of this fabulous jennet.
~ Jacks ~
"HHAA Harlequin Jack"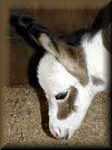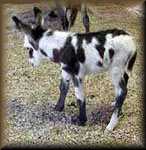 Foaled 07-11-99 @ 7:30pm

Congratulations to Marlene, Mike, and Deanna Lenker of North Carolina on the purchase of the best spotted jack we've ever had to date.. Well, naturally we think they are all great...but none with the color and markings of this little jack.


Out of Half Ass Acres Christy 32½" very correct dark gray-dun jennet. Foal coat: Tri-colored Dark brown/white/gray spotted. Not quite 22" 3 days old...he wouldn't be still so he may be smaller - I would rather guess high than low. He is a full brother to Half Ass Acres Alanis Morrisette, National Grand Champion Spotted Jennet

Pat Scanlan our donkey tree expert: Harley is the ninth generation of his family and 112 of his ancestors are listed in the donkey tree. They go all the way back to the great Luigi..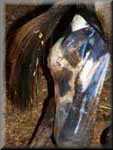 Click here to see the birth of Harley.
Click here to go to Harley's "One Day Old" page.


"HHAA Mark McGwire"
a.k.a. Homer.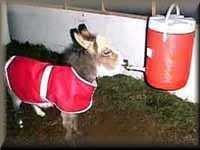 Tri-Colored Spotted Jack foaled 9-25-98
Dam is 31½" daughter of the infamous
4-Star Jack, Charlie Bandito.

Update... Homer has been sold.. Congratulations to Kay Hanson in Sedro Woolley, Washington... She now owns the cutest baby on the planet... See the issue of Miniature Donkey Talk Magazine for an article written about Homer by Brenda Short. Click on the banner below to see the article on Homer.. HOMER'S STORY IN MINIATURE DONKEY TALK MAGAZINE. PLUS LOTS MORE PHOTOS..
Click this banner to see Homer's personal page.

~ Geldings ~
HALF ASS ACRES MONTY
Foaled 04-27-98

Out of Half Ass Acres Christy 32 1/2"
very correct dark gray-dun jennet.
This little brownish-gray & white spotted
miniature donkey was 20" tall at birth.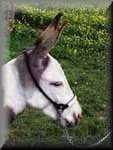 "Half Ass Acres Monty"

Update! Monty has been sold!
Congratulations to
Kevin & Kathy Loudamy
K & K Bucking Bulls
of
Tyler, Texas!
Monty has been gelded and will be their driving donkey!
Update! Monty stood Grand National Champion Gelding 2004!!!
Congratulations to his owner, Kathy Loudamy!!!

They sell bucking bulls!!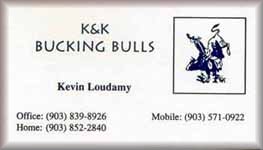 Contact Kevin if you want to hear all about bulls!
Click here to see more photos of Monty!


"HHAA Sammy Sosa"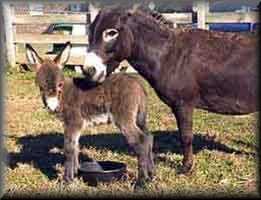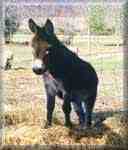 Sammy @ 2 months Sammy @ 1 year
Click photo on right to enlarge
Sammy is 23" and Black/Brown
Foaled 9-19-98 at 9pm

Sire: Fisher's Great Gildersleeve,32¼" Tri-colored Spot
Dam: Half Ass Acres Whoopie,33¾" Smoky Black
By 29" Black Sire, Rastus





Update!! Sammy has been sold!
Congratulations to Donna Rigsby
in College Grove, Tennessee!
Sammy was a Christmas Surprise
for Donna from her husband and daughter!




Joe & Dayle Haworth
2359 Feed Mill Road
Chapel Hill, Tennessee 37034
Barn Phone: 931-364-3715
Cell Phone: 615-504-4536

Web Page: http://www.miniaturedonkeys.net
Email: minidonks@united.net


E-Mail Us About Miniature Donkeys



You are on our 'Donkeys Sold in 1999' page now.


Last Updated: May 23rd, 2016
Web Design by Dayle Haworth
Copyright © 1998-2020 ~ Half Ass Acres ~ All Rights Reserved